In the early 1930s Mr. Ugo Incerpi, owner of the Bar New York, bought a coffee roasting machine, in order to be able to offer a special product to the sophisticated clientele visiting the spa town to rest and "take the waters". The result? His coffee was so good that, within a short time, word spread and on Sundays people even came from Florence to enjoy "Sor Ugo's" excellent coffee. The classic "Caffè New York" brand, with its logo represented by a black woman holding a handful of coffee beans, appeared in the mid 1930s. A redesigned version of this symbol is still used today.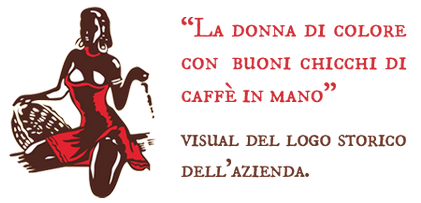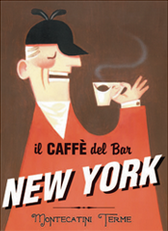 In the 1950s and 1960s, the artisanal activity was transformed thanks to Mr. Oscar Onori, Mr. Incerpi's son-in-law.
Caffè New York began to be distributed in Tuscany cafés and bars. "Primeros", a particularly mild coffee blend that has the strength of real Italian espresso was created in that period. The packaging of this blend is characterised by a man enjoying a hot cup of "Caffè New York".
Thus our story continues until today; when at any time of the day thousands of people all over the world drink our coffee.
Not only in Tuscany, but also in Japan, France, Canada, South Africa, and Germany, where we received a special recognition beating much better known competitors.
Montecatini
Ein perfekter Kaffee: a perfect coffee
The judgment of the German jury does not manifest any doubts and elects Caffè New York as one of the world's number of espresso blends.
The unusual competition, which is typically German-made at the Rexrodt restaurant in Hamburg, sees 26 mixes from Italy, Portugal, Switzerland and Germany. To promote the test is Feinschmecker (Gourmet), perhaps the most read and authoritative magazine in Europe.
The jurors are restaurateurs, coffee importers, coffee makers, the specialist Espresso store and Feinschmecker editor.
In the first place, surprising everyone, the mix of the New York Café, a company based in Pistoia (in Viale Adua), was born, but was born in Montecatini in 1930 when the owner of the homonymous bar in Corso Roma, Ugo Incerpi called Sor Ugo, he thought of toasting and chose himself the coffee for the blends.
Today the company is led by the grandchildren, the Honorable brothers. "Delicate cream, hazel-colored, of long consistency, of long persistence. In the scent you can enjoy aromas of chocolate and cocoa. A full and balanced taste with tame bitter chocolate, cardamom and walnut, which is delicate and elegantly light. "A perfect, just fantastic coffee".
This is the final judgment of the German jury.